Main content starts here, tab to start navigating
Menus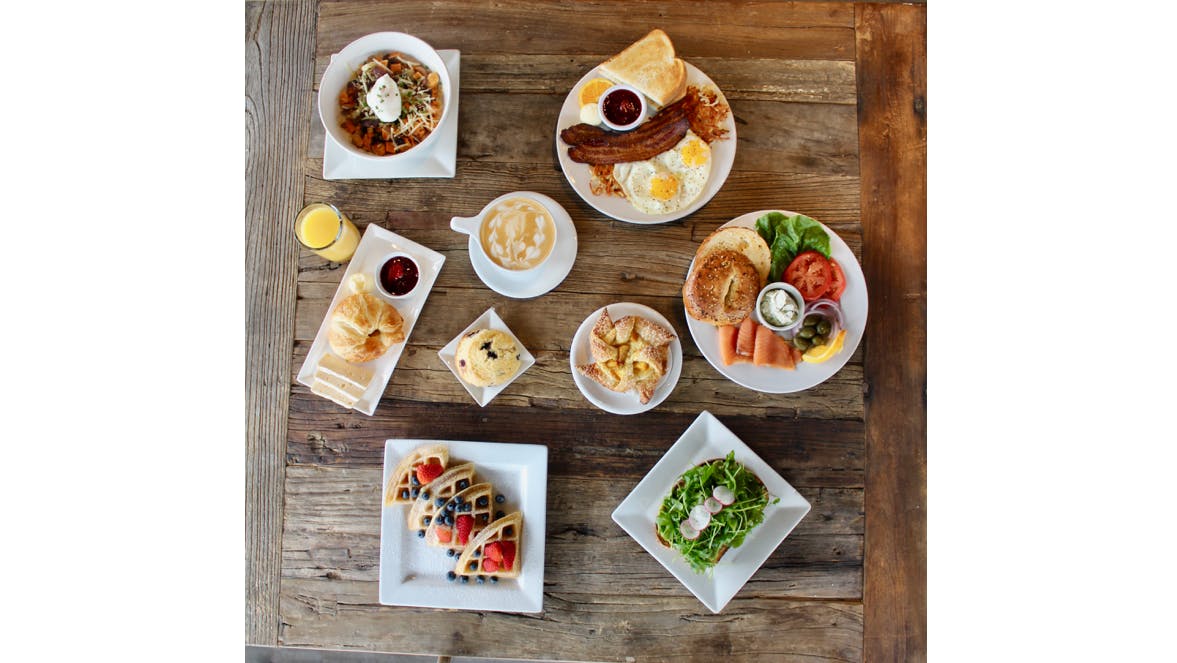 Slide 1 of 3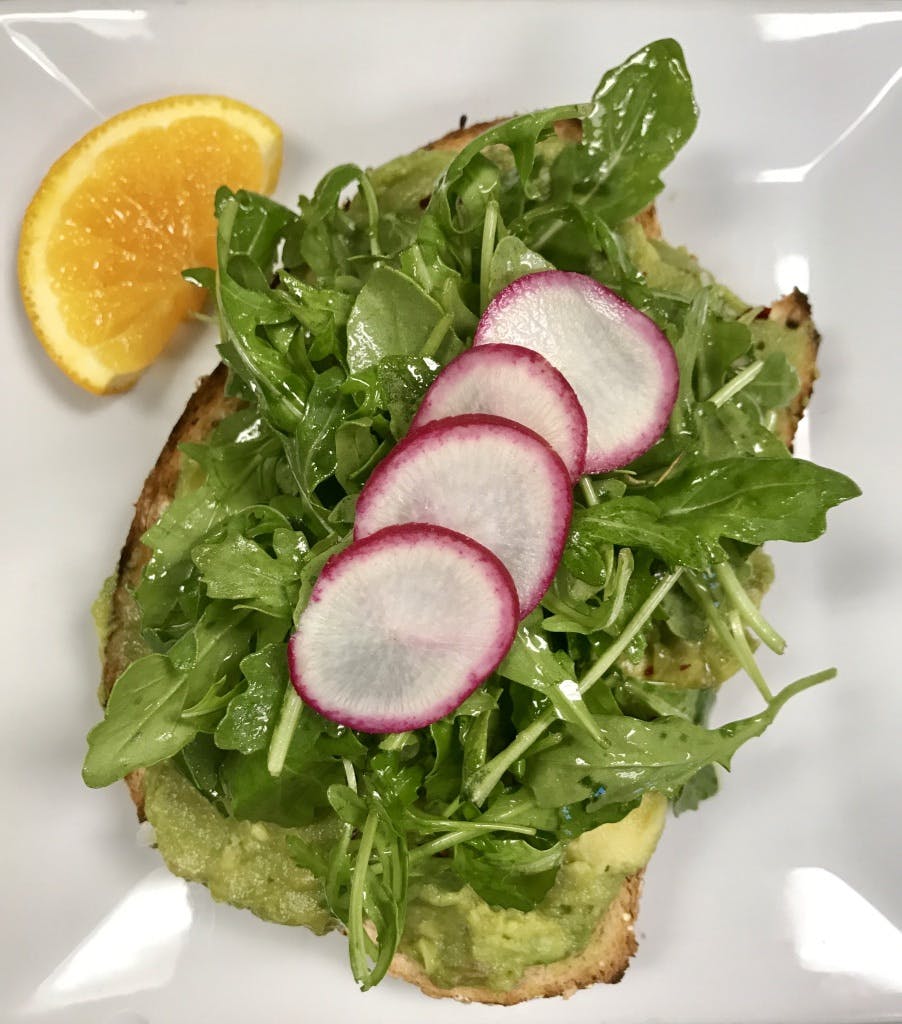 Slide 2 of 3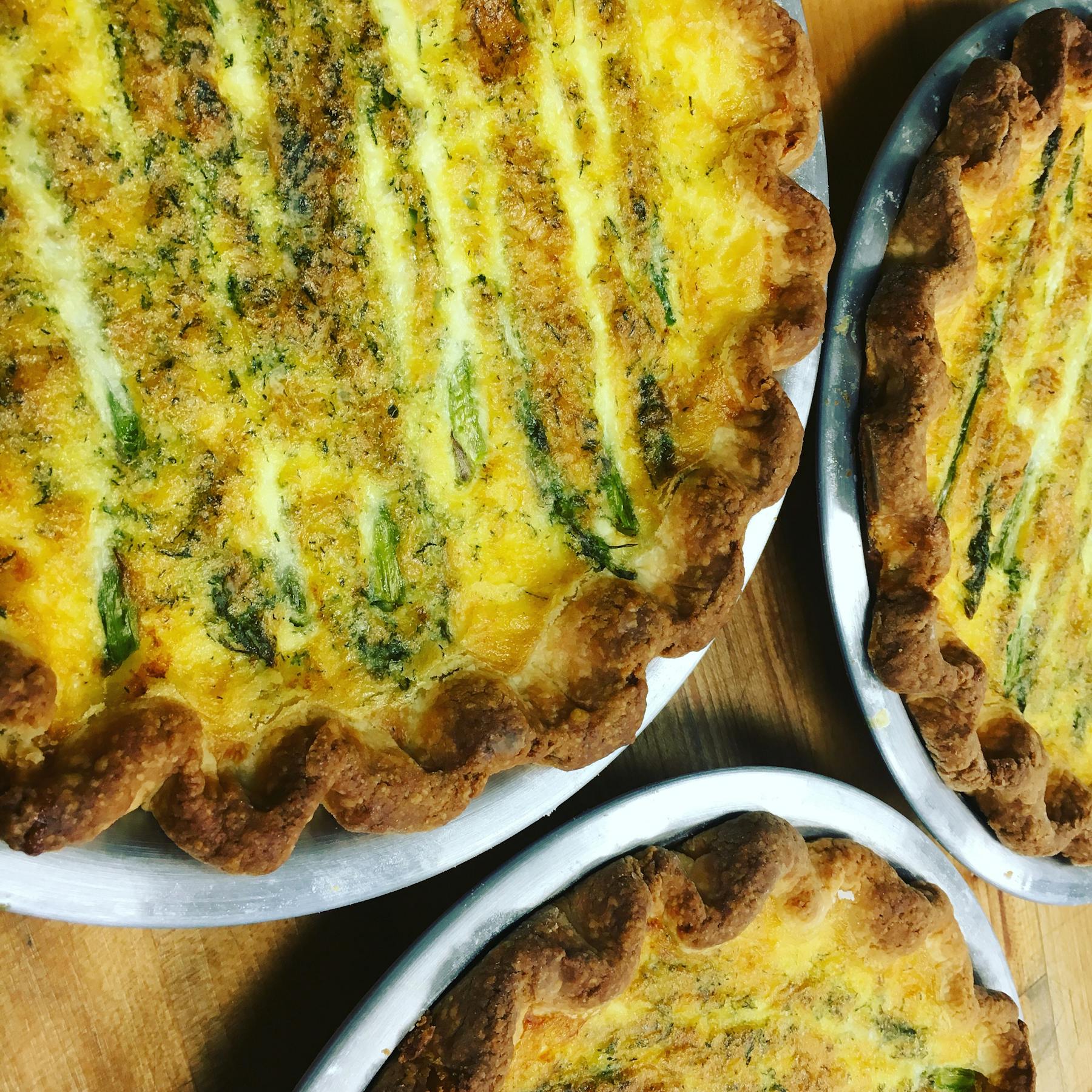 Slide 3 of 3
Morning Rituals
Avocado Toast

fresh avocado, whole wheat toast, maldon salt, chile flakes, arugula, lemon olive oil drizzle, egg

Oats

oatmeal, brown sugar, cream

Blueberries: up charge

Quiche

scratch made quiche, quiche lorraine or vegetarian, mixed greens

Lox & Bagels

lox, tomato, dill cream cheese, lettuce, red onion, caper berries, choice of plain or everything bagel

Breakfast Burrito

two eggs, cheddar & pepper jack cheese, fresh onion, flour tortilla, and choose one protein: our spicy braised beef, bacon, or sausage.
Housemade Biscuits
biscuit and jam

scratch made biscuits with house made jam

Breakfast Biscuit

two eggs with your choice of: spinach tomato chutney, cheddar, or cheddar and bacon, sausage, vegetarian sausage, or ham

Biscuits and Gravy

scratch made biscuits smothered in house made sausage gravy and topped with two over easy eggs.

Vegetarian Sausage: up charge
Eggs
Classic

two eggs, bacon, hash browns, toast & jam

Farmer Brown

three eggs scrambled with sausage, peppers, onion, topped with cheddar hash browns, served with toast & jam

Vegetarian Sausage: up charge

314 Omelette

three eggs, one protein, four more choices - choose one: bacon, ham, or sausage. choose four: spinach, tomato, onion, peppers, mushrooms, jalapeno, pepper jack, cheddar, or goat cheese. Choose sourdough or wheat toast with house made jam.

Vegetarian Sausage: up charge

Soft Scramble

two soft scrambled eggs, prosciutto, arugula, sourdough toast, pecorino cheese, black pepper

Sweet Potato Hash

roasted sweet potatoes, bacon, caramelized onions, two poached eggs
Sandwiches
Colombiano

spiced braised beef, caramelized onions, roasted red peppers, pepper jack cheese, siracha mayo, bun

BLT

so many slices of thick bacon, lettuce, tomato, roasted garlic mayo, toasted sourdough

Turkey Avocado BLT

turkey, avocado, bacon, lettuce, tomato, garlic mayo on toasted sourdough

Grilled Cheese

parmesan crusted sourdough toast filled with cheddar, havarti, and mozzarella cheese

Sides

PICK ONE: Billy Goat chips, mixed greens, buffalo cauliflower salad, chorizo fig jam fingerling potatoes
Bowls
Pro Bowl

lemon vin dressed kokuho rice, cucumber, spinach, pickled red onion, golden beets, red beets, avocado, roasted red peppers, roasted chicken, feta cheese, black beans, over easy egg

Buddha Bowl

herb tossed rice, sweet potatoes, black beans, avocado, feta cheese, pickled red onions, gochujang beef
Greens
Beet Salad

roasted golden beets, roasted red beets, mixed greens tossed in orange vinaigrette, pistachios, goat cheese, house made focaccia

Kale Salad

fresh kale, shaved roasted Brussel sprouts, crisp prosciutto, pecorino cheese, French baguette

Pick Two

Half a sandwich, Half a salad, or Cup of soup du jour
Sweets
Scones

Delicious, scratch made scones. Choose from Bluebberry, Strawberry Lemon Glaze, or ask about our seasonal scone.

Blondie

Almond flour, peanut butter, and chocolate chip make the delicious gluten free blondie...
Muffins

Light, fluffy scratch made muffins. Choose from our New York Crumb Cake muffin, moist Banana muffin, or our seasonal muffin.

Cookies

Each flavor of cookie is made from scratch, just for you!

Brownie

Rich chocolate, fudgy, cakey, delicious brownie.
London Tea | Black
Naughty Vicar

Black Currant/Vanilla

London Tea Room Blend

(English Breakfast) Raw Sugar/Dried Fruits/Citrus

Parisian

Orange/Vanilla/Milk Chocolate/Brown Sugar/Malt

Darjeeling Spring

Mango/Orange/Strawberry/Vanilla
London Tea | Pu-Ehr
Blood Orange

Blood Orange/Grapefruit/Lemon
London Tea | Green
Bedford

Mango/Passion Fruit/Grassy

Jasmine Green

Jasmine/Orchid/Spinach/Mild Sweetness

Moroccan Mint

Peppermint/Menthol
London Tea | Oolong
Coconut

Coconut/Almond/Vanilla
London Tea | Herbal
Serenity

Chamomile/Lavender/Lemon
Kilogram Tea | Black
Earl Grey

Citrus/Bergamot
Kilogram Tea | Tisanes
Blend 333

(Decaffeinated) Chamomile/Peppermint

King Crimson

Rosehip/Citrus/Lemongrass
Kilogram Tea | White
Jasmine Peach

Jasmine Blossom/Peach
Kilogram Tea | Chai
Chai Tea Latte

Iced Chai Tea Latte
Kilogram Tea | Iced Tea
Kilogram Iced Black Tea

Bergamot/Citrus
Coffee
Intelligentsia House Blend

Sweet Citrus/Milk Chocolate/Apple

Intelligentsia Decaf Blend

Stone Fruits/Milk Chocolate/Sweet Nuts

Café Au Lait

Intelligentsia House Blend

Cold Brew

Intelligentsia House Blend

Single Origin Pour Over Coffee

Seasonal Rotation, Ask Your Barista What's Brewing
Espresso Drinks
Intelligentsia Black Cat

Espresso

Cortado

Macchiato

Americano

Cappuccino

Latte

Mocha

Add Non-Dairy Milk

Soy, Almond, Coconut (Additional Charge)

Add House Made Syrup

Ganache, Carmel, Vanilla (Additional Charge)
Hot Chocolate
Hot Chocolate

Housemade Ganache
Smoothies
Sweet Sunrise

Orange Juice, strawberry, banana, & mango

Mango Peach

Mango & Peach

Pineapple Mint Tea

Moroccan Mint tea, pineapple, spinach, kale, honey

Almond Brew

Almond Milk, Cold Brew, Almond Butter, Frozen Banana
Quiche
Lorraine

bacon & cheese

Veggie of the Day

House made quiche! Ask what we are serving up today!!

single slice $10

full quiche $35
Bagels
Plain & Everything Bagels

Plain & Dill Cream Cheese

Each

$3.50
Soup
Denver Chili

French Onion

SOUP du JOUR

Chef's choice for a quart of soup...and he is the Soup King!

quart $12

Focaccia

each $2
Biscuits & Gravy
Biscuit

each $1.50

Biscuit & Jam

each $3.50

Sausage Gravy

pint $6

quart $12

Vegetarian Gravy

pint $8

quart $14